Sunday, May 16, 2021
Honoring
Laney Techentin
Philanthropic Honoree

The singers of the Los Angeles Master Chorale
Artistic Honorees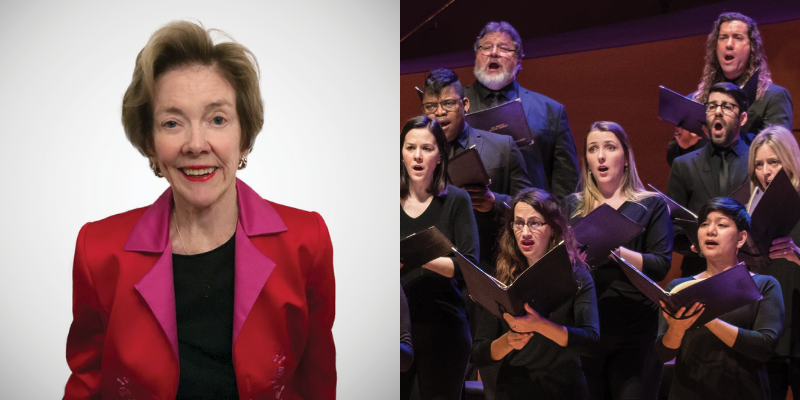 Laney Techentin has been a loyal and significant supporter of the Master Chorale for over thirty years. Building on the legacy of her father, Z. Wayne Griffin, who was instrumental in establishing the Chorale at The Music Center in 1964, Laney served as a board member from 1979 through 1981, and re-joined in 1992. Laney and her late husband, Tom, also a fervent lover of the Master Chorale, were patron chairs of our 50th anniversary gala. Although we know the Master Chorale is her favorite, Laney supports other arts institutions throughout Los Angeles, including the Pasadena Conservatory and Los Angeles Chamber Orchestra. A resident of Pasadena, Laney remains a board member to this day, offering the guidance that only someone with her intelligence and love for our art form can provide. We are incredibly fortunate that she is a leader in the Master Chorale community and are proud to honor her at GALA 2021.

Since 1964, the singers of the Los Angeles Master Chorale have inspired audiences with their outstanding performances, and today they are recognized as one of the leading professional choirs in the world. They are musical ambassadors for Los Angeles, with performances from Mexico City to the Salzburg Festival, and numerous recordings including the premiere of Eric Whitacre's The Sacred Veil. They are leaders in our region's cultural life through impactful and joyous community programs such as the Big Sing, and education programs which reach thousands of young people annually. Even amidst the pandemic, our singers have shown true artistry, commitment and resilience—sharing their voices through online performances and education initiatives. We can think of no one better to honor at GALA 2021 than this group of resilient, exceptional musicians who truly give voice to our organization and the city we call home.


WITH APPEARANCES BY
Patti LuPone
Special Guest Host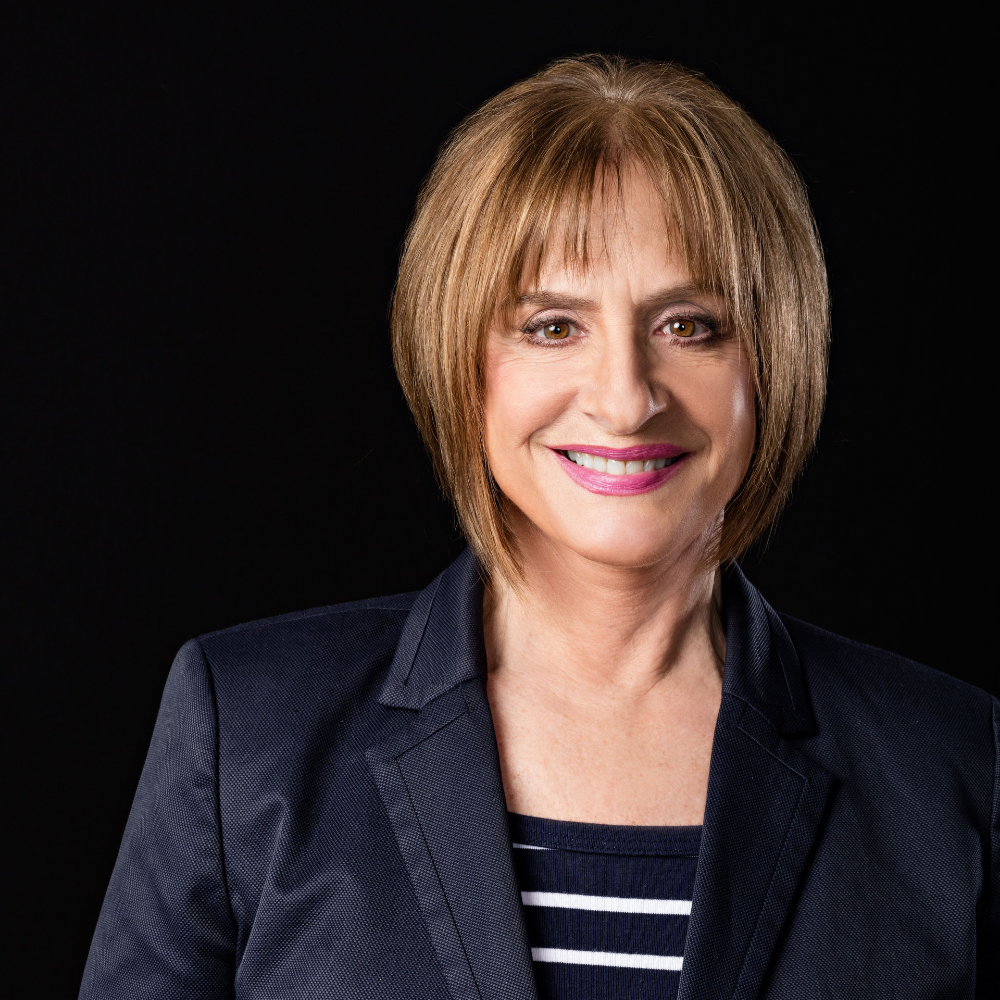 Patti LuPone appears as Avis Amberg in Ryan Murphy's Netflix series Hollywood. Recently, she won the Olivier and WhatsOnStage awards for her performance as Joanne in Marianne Elliott's production in London's West End of the Stephen Sondheim–George Furth musical Company. She has recently appeared on New York City stages in such productions as the Scott Frankel–Michael Korie–Douglas Wright–Michael Grief musical War Paint (earning award nominations for Best Actress in a Musical from the Tony, Drama Desk, and Outer Critics Circle awards); Douglas Carter Beane's new play Shows For Days, directed by Jerry Zaks at Lincoln Center Theater; the New York City Ballet's The Seven Deadly Sins, in which she played Anna 1, in her New York City debut; the New York Philharmonic's production of Company; David Mamet's The Anarchist; and Lincoln Center Theater's production of the musical Women on the Verge of a Nervous Breakdown, which earned her nominations for Tony, Drama Desk, and Outer Critics Circle awards. More information on Ms. LuPone can be found on her website.


---


We invite you to join us on May 16 as we honor the philanthropic leadership of Laney Techentin and salute the Voices of L.A.
with this special online gala. Your generous participation in GALA 2021 will support our Emergency Fund for Artistic Innovation,
keeping our singers singing and enabling the Master Chorale to share great choral music with audiences everywhere.

GALA 2021 will feature a pre-event reception and performances by the Master Chorale including a virtual "surround sing" and the
world premiere of Shine Bright, a new triptych of music videos from composers Reena Esmail, Meredith Monk, and Derrick Spiva, Jr.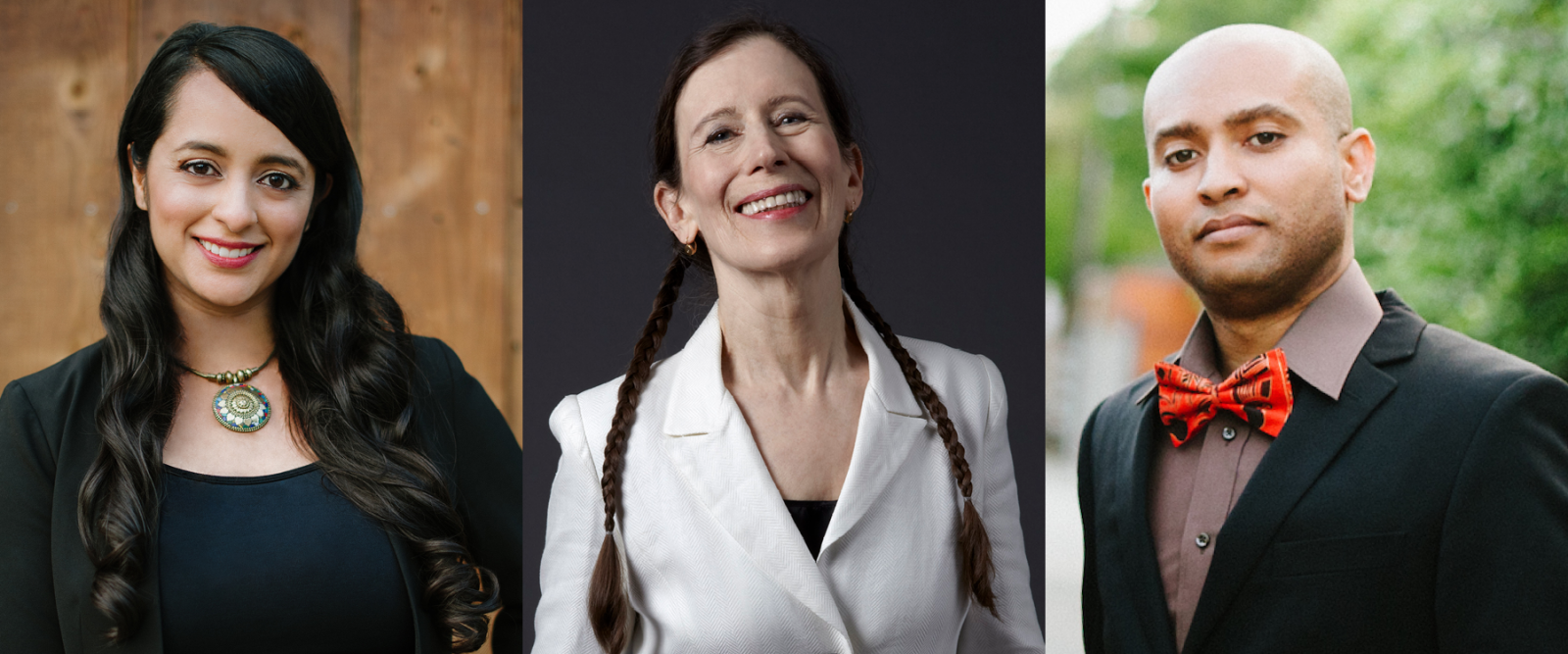 Schedule of Events
5 pm — Reception

Join us online for a live gathering before the gala program to toast our
honorees and enjoy special guest appearances.

6 pm — GALA 2021

Premiere of Shine Bright performed by the Los Angeles Master Chorale.


GALA HOST COMMITTEE
Dr. Annette L. Ermshar, Chair
Jennifer Diener
Kiki Ramos Gindler
Martha Groves
Jenny Kim and Chip Baik
Ron Myrick
Sonia Randazzo
Melissa Romain
Tracy Van Fleet


HONORARY GALA HOSTS
Michael Abels
Doug Aitken
The Honorable Kathryn Barger
Joan and Jeff Beal
Billy Childs
Dr. Robert Cutietta
Reena Esmail
Kristin and Berkeley Harrison
Morten Lauridsen
David Lieberman
Fernando Malvar-Ruiz
Judy McAlpine
Kitty McNamee
Anne Akiko Meyers
Meredith Monk
Alice Parker
Ravi S. Rajan
Derrick Spiva, Jr.
Katya and Nick Techentin
Mimi and Warren Techentin
Laurence Servaes and Eric Whitacre
Elyse Willis


GALA PLATINUM SPONSORS
Kiki Ramos Gindler and David Gindler
Warren Techentin, Kristin Harrison, and Nick Techentin in honor of their mother Elayne Techentin



GALA GOLD SPONSORS
Capital Group
Kathleen and James Drummy
Jane and Edward J. McAniff
Cheryl Petersen and Roger Lustberg
Laura Smolowe and Munger, Tolles & Olson LLP
Eva and Marc Stern
Kristan and Phil Swan
Priscilla and Curtis Tamkin
Alyce de Roulet Williamson



GALA SILVER SPONSORS
Judi and Bryant Danner
Jennifer Diener
Dr. Annette Ermshar & Associates
Courtland Palmer
Melissa and Alex Romain



GALA SPONSORS
Ann and Olin Barrett
Cindy and Gary Frischling
Jane Galbraith
Martha Groves
Frank and Mona Mapel
Ron Myrick
Sonia Randazzo