The Art of Loss: Requiems Sacred and Secular
By Thomas May
"As artists, we often talk about and perform works that deal with grief," observes Jenny Wong, the Los Angeles Master Chorale's Associate Conductor. "I think that if you present a piece that deals with grief and with direct, raw emotions — with texts that speak so directly to people — you have a responsibility to be aware of where you are leading the audience emotionally." Wong is describing the trajectory of both of the works that we will experience on this evening's program — and of their relationship in conjunction with each other.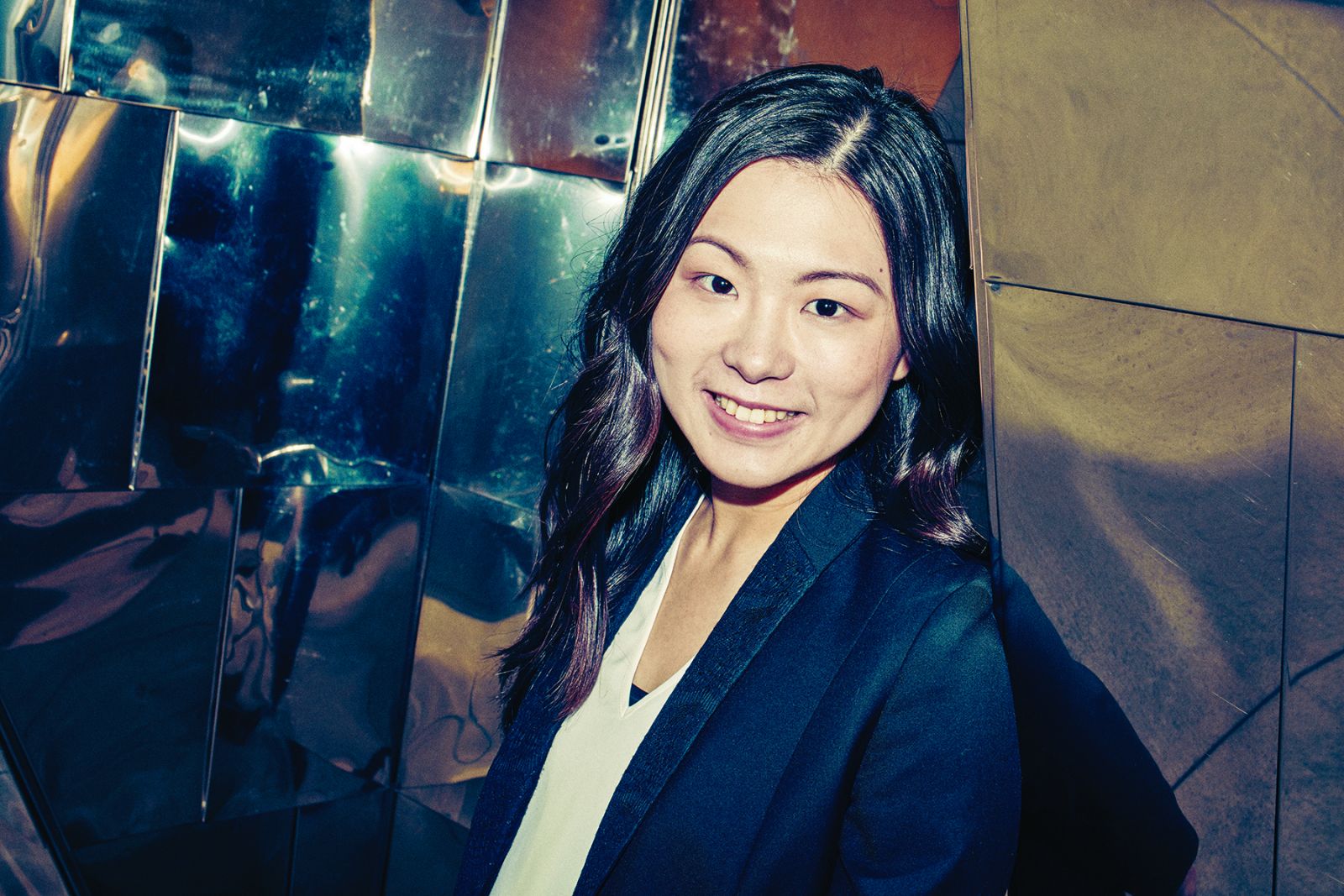 Jenny Wong, Associate Conductor. Photo by Arnaud Pyvka.
Completed in 1947 and first heard as a broadcast over French Radio on All Souls Day of that year, Maurice Duruflé's Requiem is not only the composer's main calling card but has kept its place among the most-beloved choral compositions produced in the 20th century.
The score's consoling qualities are never saccharine but emanate a sincerity that has enhanced the Duruflé Requiem's popularity: as Wong points out, the composer manages to convey "an overarching sense of acceptance and comfort — showing that comfort is achievable especially with the final
In
paradisum
section. He gives us a sense that we can find comfort together. And yet now, in 2019, many of us are questioning that again. So we continue to ask: how do we go on?
The timeless issue of how to go on — both on the individual level and as a society — has acquired a special sense of urgency in an era so riven by discord and fear. In her work titled just that,
How
to Go On
, Dale Trumbore has created a breathtakingly beautiful "secular requiem" for our broken times.
Taking account of how we process grief, says Trumbore, "I thought of how music has the potential to meet someone where they are when they are coping with loss. I don't think we can shorten that process, but we can make it easier on ourselves by making space for what we feel and moving through that space." In
How to Go On
, she creates "room to hold these many emotions when we already know the end of the story and are facing our own mortality."
DURUFLÉ'S REQUIEM
"This Requiem is not an ethereal work singing of detachment from human concerns," Maurice Duruflé observed. "In the unchanging form of Christian prayer, it reflects the anguish of humanity faced with the mystery of its final end."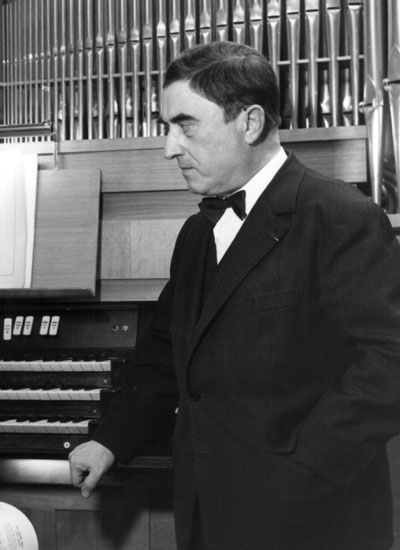 Maurice Duruflé.
In approaching his Requiem, it's useful to point out that Duruflé became immersed in traditional ecclesiastical music at a very young age. His involvement as a boy chorister at Rouen Cathedral — he started singing there in 1912, when he was 10 — left a lasting mark. Along with attending the associated choir school, he gravitated toward the organ and continued studying that instrument at the Conservatoire in Paris, also taking composition lessons. Paris exposed Duruflé to the great tradition of French organ playing under such mentors as Louis Vierne — who famously died while at his beloved instrument. Duruflé served as organist at Saint-Étienne-du-Mont, where he shared that position for much of his tenure with his organist wife.
Duruflé published barely more than a dozen compositions, which can be divided between those for keyboard (organ or piano) and his choral compositions. His years at Rouen impressed on the future composer a lifelong reverence for the tradition of Gregorian chant, and he internalized a habit of self-critical perfectionism from his composition teacher, Paul Dukas.
Ravel and Debussy were also influences — especially for the ways in which they incorporated archaic elements reminiscent of the old church modes from Gregorian chant. Duruflé singled out Ravel's orchestral music and Debussy's
Prelude to the
Afternoon of a Faun
for special admiration, and his Requiem is often discussed from the perspective of Impressionist music.
Not every composer who sets the ancient liturgical prayers used in the Roman Catholic Mass for the Deceased chooses to treat the exact same sequence of texts. This explains some of the differences in content between the Duruflé and other Requiem settings by, say, Mozart or Verdi. Like Fauré, with whose setting his own is often compared, Duruflé omits the long
Dies irae
sequence depicting the wrathful Day of Judgment from his nine movements. On the other hand, he includes prayers associated with the procession to burial that are often left out of other settings, thus ending with
In paradisum
— though
Libera me
does refer to the "Day of Wrath," while two lines of the
Pie Jesu
derive from the end of the
Dies irae
. This choice, as well as the relatively restrained mood conveyed by Duruflé's approach, has encouraged the Fauré comparison. Duruflé himself preferred to emphasize his connection to Catholic tradition: "I have simply tried to surround myself with the style suitable to the Gregorian chants as well as the rhythmic interpretation of the Benedictines of Solesmes."
Duruflé here refers to a movement to restore Gregorian chant that took root — in the wake of the devastations of monasteries during the French Revolution — at the monastery in Solesmes (northwest France), which became an archival center for such musical research. His preoccupation with the legacy of Gregorian chant was an essential impetus for his setting of the Requiem, which he completed in 1947 and dedicated to the memory of his father.
There's some debate about the origins of the work, which unfolded under the shadow of the Vichy puppet government during German occupation of France. Duruflé was commissioned to write a "symphonic poem," and that commission eventually morphed into the Requiem. Though he scored it originally for chorus, soloists, and orchestra, the first version he published (in 1948) was with organ accompaniment (with solo cello in the
Pie Jesu
); a version for chorus, organ, and reduced orchestra followed in 1961.
The Requiem's enormous popularity attests to the fact that what Duruflé accomplished in addressing the ultimate questions transcends any specific faith and indeed offers something to secular audiences as well. Similarly, Gregorian chant, which dates as far back as the 5
th
century and was so closely associated with the Catholic Church, here shows a universal resonance that feels timeless.
The original chant itself, which Duruflé borrowed heavily as the source for his melodies, features long lines sung in unison, without regular meter — thus calling for a breath-like flexibility of expressiveness and phrasing. Duruflé wrote that he had "endeavored to reconcile as much as possible the Gregorian rhythm … with the demands of modern metrical notation," adding that the form of each movement was "generally inspired by the form suggested by the liturgy."
The Requiem also benefits from a beautiful sense of proportion in its parts as well as its emotional trajectory, exploiting internal echoes between movements: compare the
Domine Jesu Christe
with
Libera me
, for example. The third movement (
Domine Jesu
Christe
) is notably longer than the relatively brief other eight movements.
Soft dynamics predominate over long stretches (as in the opening); as a result, Duruflé's comparatively rare use of loud volume in certain passages has more impact. Subtle reflection is favored over aggressive emphasis. Even Duruflé's polyphony — weaving multiple independent vocal lines into a coherent structure — is restrained rather than attention-grabbing: for instance, in the fugue arrayed across the four choral lines at the beginning of the
Kyrie
.
Domine Jesu Christe
includes some of the work's darkest passages. Recalling the beginning of the
Introit
in its first measures, the
Sanctus
presents the climax of the first half of the work at "Hosanna in excelsis." After this comes the most "Fauré-esque" movement: Duruflé's touching setting of the
Pie Jesu.
The Gregorian chant source is readily discernible in the
Agnus Dei
, but so are the composer's "modernized" harmonies and nuanced accompaniments. Cast in two parts, the
Lux aeterna
features choral writing of notable tenderness. Yet the assumption that Duruflé's Requiem is focused only on "serenity" is not entirely accurate.
Libera me
takes into account the fearful emotions of death, building to a forceful climax. Only after this does the work conclude — how differently from Mahler's celestial vision in his Fourth Symphony! — with its heavenly destination.
Here, wrote the composer, is contained "the ultimate answer of Faith to all the questions, by the flight of the soul to Paradise." et Duruflé also brings us full circle: "Requiem," the word heard at the very beginning, is the last to be sung.
DALE TRUMBORE'S HOW TO GO ON
Jenny Wong points to a gift shared by Maurice Duruflé and Dale Trumbore for writing "recognizable and seemingly simple, repetitive musical themes that are also supported by at times ambiguous but incredibly satisfying harmonies. The play of harmony and time in both composers is so powerful and at the same time always serves the text."
Trumbore recalls that she had wanted to write a requiem ("with a lowercase r") ever since singing in Verdi's setting while an undergraduate. The occasion to fulfill that desire came in the form of a commission from the non-profit, Southern California based Choral Arts Initiative and its director Brandon Elliott. In July 2016 they premiered the piece, and their album
How to Go
On: The Choral Works of Dale Trumbore
contains a recording of the music made at St. Mark Presbyterian Church in Newport Beach. Trumbore received the 2017 ASCAP Young Composers Award for
How to Go On
, which has already garnered an impressive number of additional performances around the country.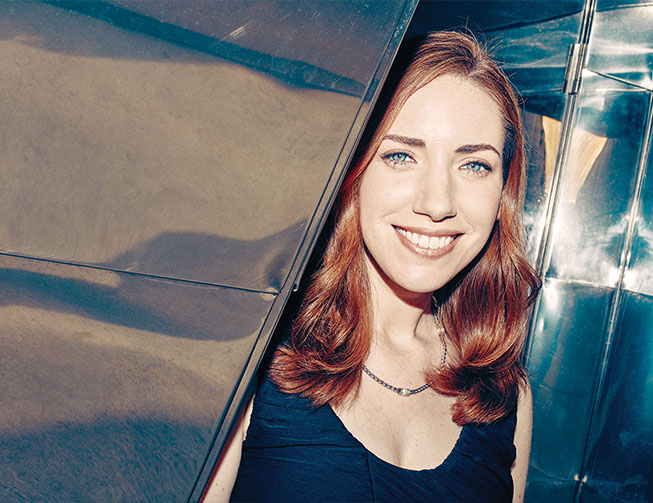 Dale Trumbore, composer. Photo by Arnaud Pyvka.
Her largest-scale composition to date,
How to Go On
began to take shape in the summer of 2015. As Trumbore notes in a reflection on composing it, she prepared to write a "secular requiem" and "to make peace with the notion of my own mortality" from the point of view of an acknowledged agnostic.
Armed with several collections of poetry by admired writers and such books as
The Places That Scare
You by the Buddhist nun Pema Chödrön, Trumbore embarked on a two-week residency at Brush Creek Foundation for the Arts in Saratoga, Wyoming. But along with the seriousness of the task she had undertaken, the composer found herself bonding with other artist residents, and the resulting sense of camaraderie also made its way into her music. She writes: "If
How to Go On
is about confronting loss and mortality after a loved one's death — and it is — it is also exactly what the title promises. It's about accepting everything we do or don't know about death and going on to create a meaningful, beautiful life for ourselves."
A resident of the Eagle Rock neighborhood, Trumbore (who was born in 1987) studied as a graduate student at the University of Southern California with Morten Lauridsen — an ideal mentor to impart the art of responding to texts with inspired sensitivity. She cites her aunt and godmother, Julie Kane, a former Poet Laureate of Louisiana (2011–13), as a role model for her own life as an artist. And three living American poets provided the skeleton for Trumbore's masterful a cappella composition: Barbara Crooker (with whom she has previously collaborated on choral settings and art songs), Amy Fleury, and Laura Foley.
"While there are no exact allusions to the Latin Requiem Mass texts and it is less grounded in the afterlife," Trumbore explains, "the piece draws on those overall themes: concern with what happens after we die and what we cannot know. As a whole, it grapples with the prospect of confronting our own mortality in the face of our grief over a loved one's death, the weight of all that."
The first poem she determined to set became the final part of the eight-movement work: Fleury's "When at Last," which revolves around "this very secular image of our bodies feeding the life cycle and going into the earth. It became the core of the entire piece. Everything that comes before is moving toward this last movement." Initially, Trumbore considered writing a 20-minute composition for chorus and chamber ensemble, but other poems kept claiming her attention until the work grew substantially in dimension. She sketched out about 80% of it during the two-week span of her Saratoga residency, composing six to eight hours per day.
A major difference from traditional Requiem settings, including Duruflé's: Trumbore's piece is "more about asking questions than being able to know any definite answers. When we lose someone, the question we ask is: How can we go on?" Jenny Wong contrasts the clear directionality, heading towards Paradise, in Duruflé with "the sense of reality" in
How to Go On
: "Dale shows that our sense of grief and hope for healing is not directional and does not have a logical timing. Anguish and fear and doubt attack us in everyday life, and not always when we expect it."
That very indeterminacy influenced Trumbore's concept of the structure of the work — even the title is both implied question and suggested answer, both at the same time. She allows for the movements to be presented in different orders from the one in which they are published/recorded, requesting only that "When at Last" be the final movement when all eight are performed (they may also be excerpted as part of a concert). Jenny Wong has decided to use an order different from that of the premiere (and the recording). She observes that it has been artistically fulfilling "to have the license to curate an experience for the audience which connects imagery in the poetry, textual connections, musical motives, key areas and resolutions, and, most importantly for me, the emotional flow."
The composer explains that this element of choosing the order "leaves room for other human choices." There are even choices to be made for some of the notes in the many solo passages. "When we move through grief, we don't have control. It can be beautiful to lose that control." Another reflection of the natural grief process is apparent in Trumbore's decision to set Barbara Crooker's epigrammatic poem twice, under the titles "How" and "Knowing the End."
"When we are grieving, we tend to find ourselves not only asking ourselves the same questions but saying the same words over and over. So I put the stress on different parts in these different movements."
Another musically symbolic strategy is the alternation between the ensemble and various soloists. Trumbore became attentive to the distinctive quality of the individual voice confronting grief in contrast to how we universally express our emotions.
"The first thing I noticed was that I chose texts that alternate between first person and second person and third. I liked the idea of alternating between questions and more straightforward suggestions."
Trumbore's music reflects these constantly shifting perspectives and "the sounds we make when we are upset." A signature use of swooping glissandos, for example, suggests not only the gesture of sighing but "the notes between the notes," the "emotions within the emotions — and things we can't express."
BUY TICKETS
Thomas May, program annotator for the Los Angeles Master Chorale, writes about the arts and blogs at memeteria.com.