Christopher Willis Brings Disney Magic to Disney Hall
When the Los Angeles Master Chorale presents its popular annual
Festival of Carols
concerts in Walt Disney Concert Hall December 8 & 15, there will be some new songs that may sound familiar to Disney fans. Christopher Willis'
Joy! O It's Christmas Time
and the Emmy Award-nominated
Jing-A-Ling-A-Ling
from the 2016 cartoon "Duck the Halls: A Mickey Mouse Christmas Special" will receive the full 100-voice Master Chorale treatment. For Australian-born, British-raised, Los Angeles-based, and classically-trained Willis, the songs neatly encapsulate the hallmarks of his decade-long film composing career. It will also be the first time his songs will be performed in Disney Hall, aka the "Mouse house."
Willis says a sense of familiarity was deliberately created for the songs that form the basis of the score for the 21-minute "Duck the Halls" special. "We talked a lot about wanting things to feel classic and ageless, so there is a vintage feeling." This is reflected in the direction of the
Mickey Mouse
cartoons that, while fresh and contemporary, are at the same time homage to the art direction and storytelling of Walt Disney and his animators of the 1920s and '30s.
In "Duck the Halls," the songs have orchestral accompaniment, with
Jing-a-Ling-a-Ling
having a particularly bold big band sound. For the Festival of Carols, the songs will be sung a cappella.
"It's an interesting transformation that songs go through when you make them a cappella," says Willis. "The original way the songs sound is very Hollywood and mid-century sounding, but once you take the choir on its own, anything in the song that's Victorian and more old-fashioned is brought to the fore."
The songs have already been heard as carols when Willis arranged them for his wife, Master Chorale soprano Elyse Willis, and her singing colleagues for caroling gigs.
The songs themselves reflect some of the composer's mix of English background and Hollywood glamour: "My childhood associations with Christmas are very much in that English vein, although I have become very fond of the Southern California Christmas and all of these kind of glitzy traditions—the Frank Sinatra and the Bing Crosby and a slightly different, almost kitschy, set of associations. I think you can possibly hear both of those aspects of Christmas in these songs."
Willis' career composing for film and television came via training as a classical pianist and musicologist. He attended the Royal Academy of Music in London and completed his PhD in Musicology at the University of Cambridge with his doctoral dissertation on the music of Domenico Scarlatti.
"I always wanted to be a composer, I just wasn't sure what sort of composer for a few years," he says. "The idea of being a film composer was so incredibly remote that I don't think it seriously entered my head for a long time. So, in the absence of any certainty about that, I played the piano for a long time and became a concert pianist briefly in my early 20s and then was repeatedly restless in each bit of the music world that I went into. As a result of that restlessness, I went to Cambridge. I had already been to Cambridge for my undergrad but I went back to write a PhD. All of that time I was writing music and pondering, trying to work out where I fit into the world. Then quite suddenly I realized that being a film composer was a real thing and discovered that composers needed assistance and if you could just get in touch with them, there was a path."
Willis subsequently secured a job with celebrated British composer Rupert Gregson-Williams (
The Crown
,
Wonder Woman
,
Hotel Rwanda
,
The Legend of Tarzan
) in his Los Angeles studio.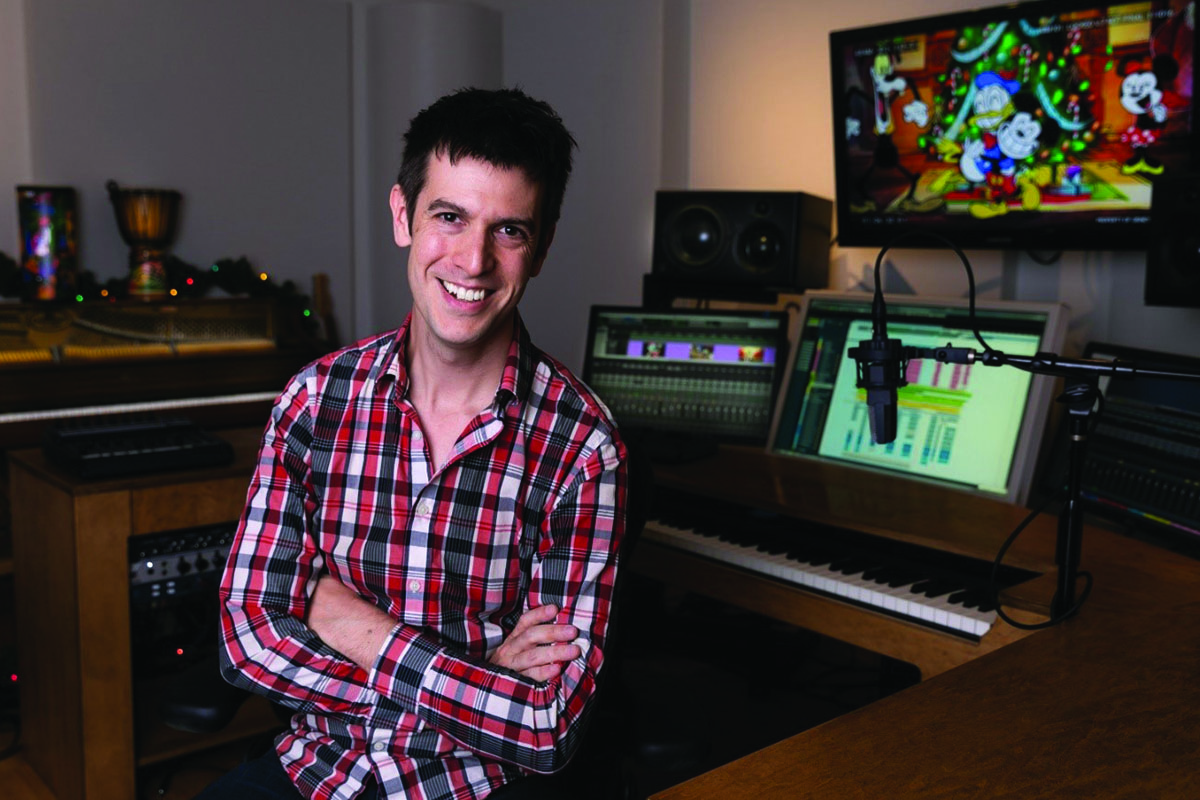 "He took an enormous chance on me because as far as film music goes, I had been doing all of the wrong things, like writing about Scarlatti and teaching counterpoint. I came over (to Los Angeles) and was really thrown into the deep end working in his studio. Suddenly I was learning about all the computers that are used these days and the whole history of writing to picture. Gradually it became clear that my background was actually quite useful and that having a very solid background in traditional harmony and orchestration was going to be very valuable."
After assisting on film projects, Willis' first major project was to work on the score for HBO's
Veep
with Gregson-Williams, subsequently winning an ASCAP Film & Television Music Award in 2014 for Top Rated Television Series Composer. He has also won four Annie Awards for Outstanding Achievement, Music in a TV/Broadcast Production for his work on the Disney
Mickey Mouse
series.
Veep
also connected him with director Armando Iannucci who engaged him to compose the music for his 2017 film
The Death of Stalin
and his forthcoming adaptation of Charles Dickens'
David Copperfield
titled
The Personal History of David Copperfield.
Willis acknowledges that Dickens and Mickey Mouse are somewhat heavyweight subjects: "It's a big responsibility. You have a whole nation in both cases feel very strongly about the thing in question!"
SEE FULL FESTIVAL OF CAROLS PROGRAM