Grant Gershon
Kiki & David Gindler Artistic Director
---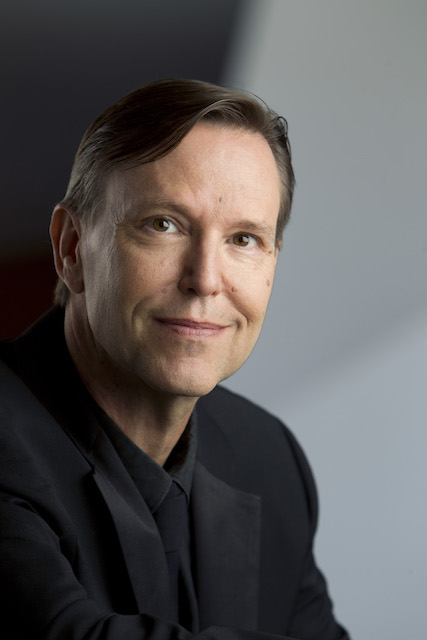 Grant Gershon, Kiki & David Gindler Artistic Director, has been hailed for his adventurous and bold artistic leadership, and for eliciting technically precise and expressive performances from musicians. The Los Angeles Times has said the Chorale has become "the best-by-far chorus in America" under Gershon, a reflection on both his programming and performances. In April 2022, Chorus America honored Gershon with the Michael Korn Founders Award for Development of the Professional Choral Art in recognition of his career's work.
 
Gershon has led more than 200 Chorale performances at Walt Disney Concert Hall in programs encompassing a wide range of choral music, from the early pillars of the repertoire to contemporary compositions. He has led world premiere performances of major works by such compoers as Michael Abels, John Adams, Louis Andriessen, Jeff Beal, Eve Beglarian, Billy Childs, Reena Esmail, Gabriela Lena Frank, Ricky Ian Gordon, Shawn Kirchner, David Lang, Morten Lauridsen, Steve Reich, Ellen Reid, Christopher Rouse, Esa-Pekka Salonen, and Chinary Ung. 

Gershon is committed to increasing representation in the choral repertoire, and in 2020 he announced that the Chorale will reserve at least 50% of each future season for works by composers from historically excluded groups in classical music. 
 
In July 2019, Gershon and the Chorale opened the famed Salzburg Festival with Lagrime di San Pietro, directed by Peter Sellars. The Salzburg performances received standing ovations and rave reviews from such outlets as the Süddeutsche Zeitung, which called Lagrime "painfully beautiful" (Schmerzliche schön). Gershon and the Chorale debuted the production in Los Angeles in 2016 and began touring the world with it in 2018. In his review of the premiere of Lagrime, the Los Angeles Times noted that the production "is a major accomplishment for the Master Chorale, which sang and acted brilliantly. It is also a major accomplishment for music history."

As resident conductor of LA Opera, Gershon conducted the West Coast premiere of Philip Glass's Satyagraha in November 2018. He made his acclaimed debut with the company with La Traviata in 2009 and subsequently conducted Il Postino, Madama Butterfly, Carmen, Florencia en el Amazonas, Wonderful Town, The Tales of Hoffmann, and The Pearl Fishers. In 2017, he made his San Francisco Opera debut conducting the world premiere of John Adams's Girls of the Golden West, directed by Peter Sellars, who also wrote the libretto, and made his Dutch National Opera debut with the same opera in March, 2019. Gershon and Adams have an enduring friendship and professional relationship that began 27 years ago in Los Angeles when Gershon played keyboards in the pit for Nixon in China at LA Opera. Since then, Gershon has led world premiere performances of Adams's theater piece I Was Looking at the Ceiling and Then I Saw the Sky, premiered his two-piano piece Hallelujah Junction with Gloria Cheng, and conducted performances of Harmonium, The Gospel According to the Other Mary, El Niño, The Chairman Dances, and choruses from The Death of Klinghoffer. 

In New York, Gershon has appeared at Carnegie Hall and at the historic Trinity Wall Street, and he has performed on the Great Performers series at Lincoln Center and the Making Music series at Zankel Hall. Other major appearances include performances at the Ravinia, Aspen, Edinburgh, Helsinki, Salzburg, and Vienna festivals, the South American premiere of the LA Opera's production of Il Postino in Chile, and performances with the Baltimore Symphony and the Coro e Orchestra del Teatro Regio di Torino in Turin, Italy. He has worked closely with numerous conductors, including Claudio Abbado, Pierre Boulez, James Conlon, Gustavo Dudamel, Lorin Maazel, Zubin Mehta, Simon Rattle, and his mentor, Esa-Pekka Salonen. 
 
His discography includes the Grammy-nominated recordings of Sweeney Todd (New York Philharmonic Special Editions) and Ligeti's Grand Macabre (Sony Classical); commercial CDs with the Chorale, including Glass-Salonen (RCM), You Are (Variations) (Nonesuch), Daniel Variations (Nonesuch), A Good Understanding (Decca), Miserere (Decca), and the national anthems (Cantaloupe Music); and two live-performance albums, the Chorale's 50th Season Celebration recording and Festival of Carols. He has also led the Chorale in performances for several major motion pictures soundtracks, including, at the request of John Williams, Star Wars: The Last Jedi and The Rise of Skywalker. Gershon was named Outstanding Alumnus of the USC Thornton School of Music in 2002 and received the USC Alumni Merit Award in 2017.