---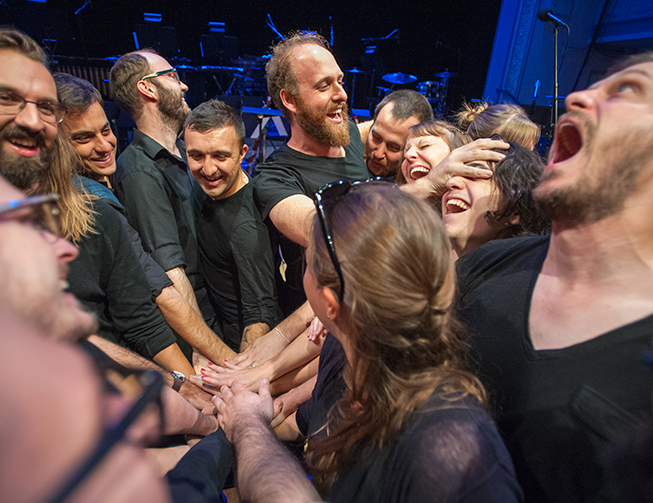 wild Up has been called "Searing. Penetrating. And thrilling" by Fred Child of Performance Today and "Magnificent" by Mark Swed of the LA Times. Over the last five years, wild Up has collaborated with orchestras, rock bands and cultural institutions around the world.

The group began in 2010 as a self-funded, completely bootstrapped project of wild Up's Artistic Director and Conductor Christopher Rountree: after graduate school, Rountree returned to Los Angeles wanting to create an ensemble made up of young musicians, a group that would reject classical music's most outdated traditions and embrace unusual venues and programs that throw the classical repertoire into the context of pop culture, new music and performance art. The group's first few concerts at art studios and rock clubs around L.A. created a fervent fanbase of true believers. Then UCLA's Hammer Museum tapped wild Up as the museum's first ever Ensemble-in-Residence, and after dozens of concerts in the Hammer's halls, courtyards and galleries, the LA Times proclaimed the group "Best Classical Music of 2012." It was off to the races, as wild Up began working with musical and cultural institutions around the world.

The group has been Ensemble-in-Residence with the Los Angeles Chamber Orchestra, and played numerous programs with the Los Angeles Philharmonic including the LA Phil's Brooklyn Festival, Minimalist Jukebox Festival, and Next on Grand Festival. They started an ongoing education partnership with the Colburn School, taught Creativity and Consciousness at Bard's Longy School, led composition classes with the American Composers Forum and American Composers Orchestra, and founded and an intensive educational program with the LA Philharmonic in which ten young composers and a faculty of eight legendary composers meet to collaborate on new work.

While the group is part of the fabric of classical music in L.A., wild Up also embraces indie music collaborations. The group has an album forthcoming on Bedroom Community Records with Bjork's choir Graduale Nobili, vocalist Jodie Landau, and producer Valgeir Sigurðsson recorded in Reykjavik, Iceland; they played with composer Ellis Ludwig-Leone and rock band San Fermin under a tyrannosaurus rex at the Natural History Museum of Los Angeles; they performed Mica Levi of Micachu and the Shapes' score of the Scarlett Johansson film Under the Skin at the Regent Theater in downtown L.A.; they premiered and recorded an opera by Lewis Pesacov of afrobeat band Fool's Gold about the end of the Mayan Calendar; and they will premiere forthcoming works by Domino Records artist Julia Holter and Eric Avery of rock band Jane's Addiction.

In the upcoming season, wild Up is Ensemble-in-Residence with Jennifer Koh and Shai Wosner at the Laguna Beach Music Festival; they embark on their second large-scale production with director James Darrah and production company Chromatic called FAILURE; and the group will premiere a few dozen new works, including composer David Lang's Anatomy Theater at the LA Opera. In October, wild Up makes their New York debut on the American Composers Orchestra's SONiC festival with a new program called "West."

wild Up has been featured at numerous West Coast cultural spaces including the Music Academy of the West, Santa Barbara Arts and Lectures, the Broad Stage, Zipper Hall at the Colburn School, REDCAT, Walt Disney Concert Hall, Beyond Baroque, the Armory Center for the Arts, Santa Ana Sites, and Echo Park's Jensen Rec Center. Their recordings of Shostakovich, Rzewski, Messiaen and Los Angeles composers have been featured on KUSC, WNYC, Q2, KPFK, Alex Ross's blog The Rest Is Noise and American Public Media's Performance Today, among many others.