---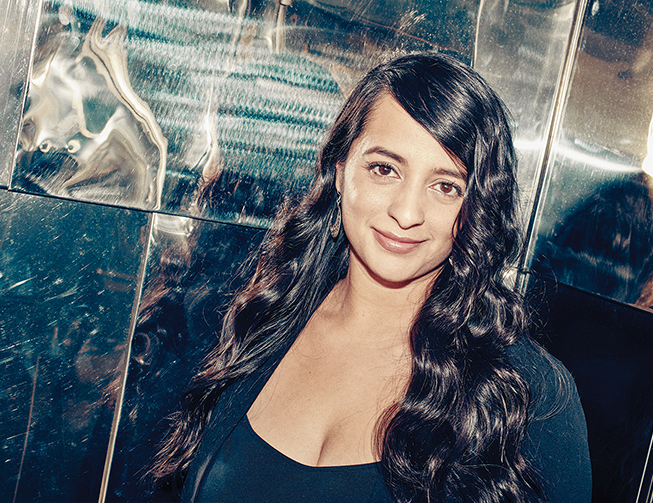 Indian-American composer Reena Esmail works between the worlds of Indian and Western classical music, and brings communities together through the creation of equitable musical spaces. 

In recent seasons, Esmail has worked with the Kronos Quartet, Albany Symphony, River Oaks Chamber Orchestra, Salastina Music Society, SOLI, and American Composers Orchestra. Her work is performed regularly throughout the US and abroad, and has been programmed at Carnegie Hall, the Barbican Centre in London, Schloss Esterhazy in Hungary, and throughout India. She has served as Composer in Residence for Albany Symphony (2016-17), Street Symphony (2016-present) in downtown Los Angeles, Concerts on the Slope (2015-16) in Brooklyn, NY and the Pasadena Master Chorale (2014-16) in Pasadena, CA.

Esmail received a 2011-12 Fulbright-Nehru to study Hindustani music in India, where she was also a 2011 INK Fellow (in association with TED). In 2010, Esmail co-founded of Yale's Hindi a cappella group, Sur et Veritaal. Esmail's doctoral thesis, entitled Finding Common Ground: Uniting Practices in Hindustani and Western Art Musicians explores the methods and challenges of the collaborative process between Hindustani musicians and Western composers. Her teachers include Srimati Lakshmi Shankar and Saili Oak.

Esmail holds degrees in composition from The Juilliard School (BM'05) and the Yale School of Music(MM'11, MMA'14, DMA'18). Her primary teachers have included Susan Botti, Aaron Jay Kernis, Christopher Theofanidis and Martin Bresnick, Christopher Rouse and Samuel Adler. She has won numerous awards, including the Walter Hinrichsen Award from the American Academy of Arts and Letters (and subsequent publication of a work by C.F. Peters) and two ASCAP Morton Gould Young Composer Awards.

Esmail was on the composition and theory faculty at Manhattan School of Music Precollege from 2006-2011. She taught the music theory core curriculum at Yale College from 2012-14. Recently, Esmail has worked with young composers through mentorship programs including Shastra's Arranging with Hindustani Music, Pasadena Master Chorale's Listening to the Future. This season, she will mentor young women composers through Kaufmann Center's new program, The Luna Lab.

Recent commissions include: I Rise: Women in Song, for Lehigh University's women's chorus and orchestra, a Clarinet Concerto for Hindustani/Western crossover clarinetist Shankar Tucker and Albany Symphony Orchestra (where she was the 2016-17 Composer Fellow), The Light is the Same for Imani Winds, and a new major sacred work, This Love Between Us: Prayers for Unity for chorus, orchestra, sitar and tabla, written for Yale Schola Cantorum and Juilliard 415 which toured India in March 2017. This season's highlights include new works for Chicago Sinfonietta, Albany Symphony, and violinist Vijay Gupta.

In addition to her work as a composer, Esmail is the Co-Artistic Director of Shastra, a non-profit organization that promotes cross-cultural music that connects the great musical traditions of India and the West. She is also the Composer-in-Residence with Street Symphony, where she works with communities experiencing homelessness and incarceration in Los Angeles.

Esmail currently resides in Los Angeles, California.