---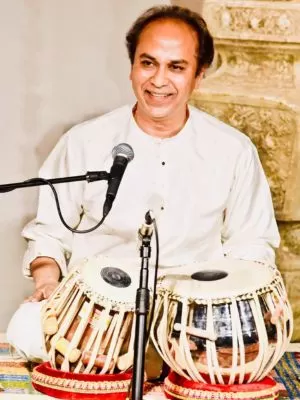 Abhiman Kaushal is an outstanding tabla artist who is much sought after for his sensitive accompaniment and intense solo playing. He represents the Farukkabad and Lucknow styles of tabla. Having been initiated into the art by his father Shri R.B. Kaushal, who himself was a disciple of the legendary Ustad Amir Hussain Khan, Abhiman later continued his training under the famous Ustad Sheikh Dawood of Hyderabad, India and the Ustad's senior most disciple, Pandit B. Nandkumar. Abhiman has accompanied most of the leading musicians, singers, and dancers of Hindustani music. Some of the prominent names are Pandit Ravi Shankar (sitar), Pandit Hari Prasad Chaurasia (flute), Ustad Amjad Ali Khan (sarod), Pandit Jasraj (vocal), Ustad Shujaat Khan (sitar), Vidhushi Veena Sahasrabudde (vocal), and other distinguished artists. He also holds the distinction of being Pandit Ravi Shankar's exclusive tabla player from 1991–1995, touring with the maestro all over the world.
Abhiman has performed in prestigious venues such as Carnegie Hall, Barbican Center, Lincoln Center, Palacio de Bellas Artes, Taiwan's National Musical Hall, and Siri Fort auditorium, to name a few. He has recorded with Pandit Ravi Shankar and the famous composer Philip Glass for the highly successful album Passages. Abhiman has recorded for National Geographic's Man Eaters of North India and numerous Hollywood movies, the most popular being Zoolander. A special mention towards his collaborations are unique recordings with Ustad Shujaat Khan (sitar) and Katayoun Goudarzi (Persian poetry) which for the past three years (2011–2014) have been consecutively short listed for GRAMMY awards.
Considered one of the foremost artists of tabla, performing extensively globally and teaching a highly successful academic program, Abhiman has earned a much deserved reputation as highly respected representative of Indian Classical music and true cultural ambassador of the art form.