---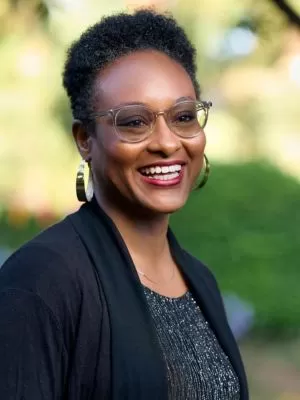 Dr. Zanaida Stewart Robles is an award-winning Black American female composer, vocalist, and teacher. She is a fierce advocate for diversity and inclusion in music education and performance. Authentic interpersonal connection and relationship-building are core principles of her teaching and performance methods. Born, raised, and educated in Southern California on the occupied lands of the Gabrielino-Tongva people, she is in demand as a composer, vocalist, clinician and adjudicator for competitions, festivals, and conferences related to choral and solo vocal music.
Dr. Robles's original music has been performed by professional ensembles, community choirs, educational institutions, churches, and individuals world wide. Her works are published by Stewart Robles Music, Music Spoke, E.B. Marks Music, Pavane Publishing, and Stainer and Bell. Her compositional style can be described as energized, soulful, contrapuntal, harmonically colorful, rhythmically driven, heavily modal, occasionally with African elements and touches of progressive rock.
As a performing arts instructor at Harvard-Westlake Upper School in Studio City, CA, Dr. Robles conducts the Chamber Singers, Jazz Singers, Bel Canto Treble Choir, and Wolverine Chorus for tenors and basses. She is also the director of music at Neighborhood Unitarian Universalist Church in Pasadena, CA where she oversees the Neighborhood Chorus, Neighborhood Bells, and the Neighborhood Youth Choir. Dr. Robles served for 5 years as music director for "Project Messiah" with Street Symphony – an organization that engages communities directly affected by homelessness and incarceration in LA County through performances, workshops and teaching artistry. While studying at the University of Southern California (USC), she conducted the USC Thornton University Chorus for two years. Prior to this, she worked at the Los Angeles County High School for the Arts (LACHSA) for 7 years where she was the director of classical choirs and taught vocal fundamentals, sight singing, and music theory. Under her direction, the LACHSA Classical Choirs performed for numerous festivals, concerts, and special events at Walt Disney Concert Hall, the Hollywood Bowl, and in other venues throughout Southern California.
As a concert soprano soloist, studio vocalist for film and television, and professional ensemble singer, Dr. Robles has sung throughout the United States, and in parts of Europe, New Zealand, and Australia. Her film, television, and video game credits include "Glee," "Tinkerbell: Pirate Fairy," "Godzilla," "Minions," "Creed," Lego Movie," "Despicable Me 3," "Star Wars: The Last Jedi," "Venom," "Smallfoot," "Frozen 2," "Underwater," "Mulan," and "Call of Duty Black Ops Cold War."
Dr. Robles holds a Doctor of Musical Arts degree from the USC Thornton School of Music, a Master of Music degree from CSU Northridge, a Bachelor of Music degree from CSU Long Beach, and she is a graduate of the Los Angeles County High School for the Arts.