Grant Gershon to Make His San Francisco Opera Conducting Debut Nov 21
Los Angeles Master Chorale Kiki and David Gindler Artistic Director Grant Gershon will make his San Francisco Opera debut when he leads the cast, San Francisco Opera Orchestra, Chorus, and Dance Corps in the world premiere performances of
Girls of the Golden West
by John Adams. The production will be directed by Peter Sellars who also wrote the libretto. There will be eight performances of the opera from November 21 through December 10.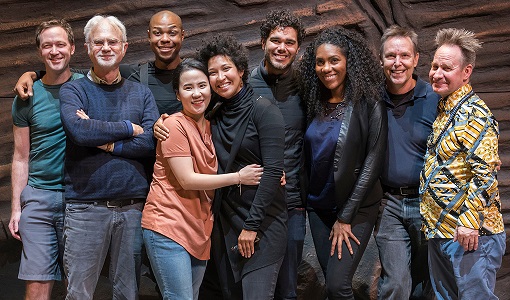 Grant Gershon (second from right) with Adams, Sellars, and the cast of Girls of the Golden West.
Photo by Stefan Cohen.
Girls of the Golden West
takes place in the historic mining camps of Rich Bar and Downieville during California's transition from territory to American statehood, a period which coincided with the Gold Rush and its unprecedented migration of people from around the world. Sellars' libretto draws from sources illuminating multiple perspectives, including
The Shirley Letters
, a collection of 23 letters by Louise Clappe penned under the name "Dame Shirley" describing the rugged conditions and clash of cultures in the gold mining camps from 1851 to 1852; the diary of Chilean miner Ramón Gil Navarro; memoirs of fugitive slaves; poems of Chinese immigrants; the Argentine poet Alfonsina Storni; Frederick Douglass' speech "What to the Slave is the Fourth of July?"; gold miner songs; and Mark Twain's
Roughing It
. (
Read the complete synopsis.
)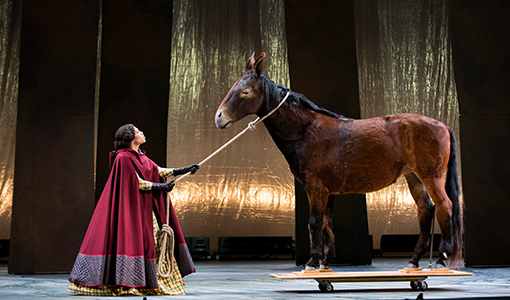 Soprano Julia Bullock as Dame Shirley. Photo by Stefan Cohen.
Soprano
Julia Bullock
makes her company debut as Dame Shirley, an educated woman who lived in the mines for over a year and chronicled her experiences during the early days of the Gold Rush; bass-baritone
Davóne Tines
portrays Ned Peters, an African-American cowboy and fugitive slave who is drawn to the promise of the frontier; tenor
Paul Appleby
returns to sing the pivotal role of Joe Cannon, a lonely miner whose desire for Josefa Segovia leads to a crisis in the camp; Korean soprano
Hye Jung Lee
portrays Ah Sing, the Chinese prostitute who wishes to marry Joe; mezzo-soprano
J'Nai Bridges
portrays Josefa Segovia who entertains miners at the Empire Hotel and is modeled on a Mexican woman of the same name who was lynched in 1851 after an altercation with a white miner; bass-baritone
Ryan McKinny
makes his company debut as Clarence, a hard-luck miner; baritone
Elliot Madore
portrays Ramón, the Chilean bartender of the Empire Hotel; former San Francisco Ballet principal dancer
Lorena Feijóo
is Lola Montez, the mid-19th-century celebrity and entertainer who performed in the gold fields and was known for her provocative "Spider Dance."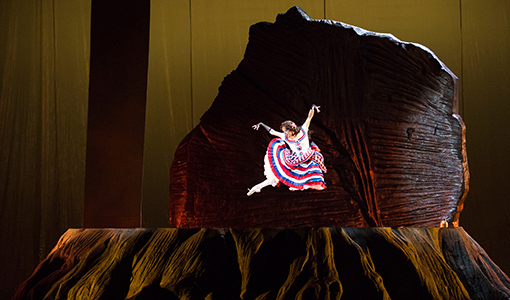 Lorena Feijóo as Lola Montez. Photo by Stefan Cohen.
Gershon and Adams have an enduring friendship and professional relationship which began 27 years ago in Los Angeles when Gershon played keyboards in the pit for
Nixon in China
at LA Opera. Since then, Gershon has led the world premiere performances of Adams' theater piece
I Was Looking At The Ceiling And Then I Saw The Sky
, premiered his two-piano piece
Hallelujah Junction
(with Gloria Cheng), and has conducted performances of Harmonium,
The Gospel According to the Other Mary
,
El Niño
,
The Chairman Dances
, and choruses from
The Death of Klinghoffer
.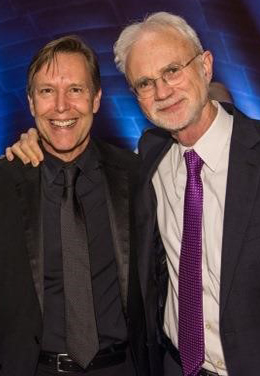 Grant Gershon and John Adams.
Gershon was recently approached by Boosey & Hawkes to curate and edit a new three volume set of choruses from Adams' operas, newly transcribed for piano by Chitose Okashiro with five of the choruses premiered by the Los Angeles Master Chorale in March to celebrate Adams' 70
th
birthday.
In December 2016 the Master Chorale performed Adams' nativity oratorio,
El Niño
with the LA Phil with Gershon. Of this performance,
LA Times
Music Critic Mark Swed said: "With Grant Gershon conducting and his Master Chorale as the chorus, along with members of the L.A. Phil, there was a sense of rightness. No combination of chorus, orchestra and conductor has more experience with Adams' music …"
Gershon and Sellars' most recent collaboration was the Los Angeles Master Chorale's groundbreaking and critically-acclaimed production of Orlando di Lasso's
Lagrime di San Pietro
(
Tears of St. Peter
) that will be re-mounted in Los Angeles for a special Gala performance on March 18.
Gershon will return to Walt Disney Concert Hall to conduct the Master Chorale's performance of
Handel's Messiah
on December 17 and the
Messiah Sing-Along
on December 18.
For more information about
Girls of the Golden West
and tickets, visit
www.sfopera.com
.