WADE IN THE WATER, AN A CAPPELLA CONCERT OF SPIRITUALS AND MUSIC OF RENEWAL
The Los Angeles Master Chorale puts spirituals at the forefront of a concert called "Wade in the Water" to be performed at Walt Disney Concert Hall on Sunday, April 30 at 7 PM. The concert features 13 songs with the spirituals juxtaposed with other folk music traditions such as early American shape note singing, as well as a contemporary Korean piece, and a pair of European choral masterpieces from the 20th century. The concert will feature 48 singers performing a cappella, conducted by Artistic Director Grant Gershon and Assistant Conductor Jenny Wong. The concert also provides an opportunity to highlight several of the Master Chorale's solo voices on the program.
Gershon said although they appear very different, there is a connection between all of the songs: "There is a kinship to all of these pieces that has to do with emotional directness and a spirituality that reflects inward. They share a lyricism and clarity that are natural and effortless."
Gershon said while choirs love to sing spirituals, they are often sung to close out a traditional choral concert or as an encore. With "Wade in the Water" he wanted to make them the touchstone of the program: "We'll hear spirituals reflecting the perspectives of an array of composers and arrangers and interacting with other music on an eclectic program, to reflect and deepen themes of music of the spirit and of renewal."
The program includes two arrangements by Moses Hogan (1957-2003), a New Orleans-born composer, conductor, and pianist of international renown heralded for his settings of African-American spirituals. In this concert his setting of the English hymn
Abide with Me
is featured, as is his acclaimed arrangement of
Wade in the Water
that gives the concert its title. The song features a dramatic solo to be performed by soprano Zanaida Robles. Of a previous performance, Los Angeles Times music critic Mark Swed wrote: "… no one who heard the restrained rapture that Master Chorale soprano Zanaida Robles brought to 'Wade in the Water' will forget it."
A composer, a conductor, and an educator in addition to singing, Robles' arrangement of
Lift Every Voice
is also featured on the program. Written by brothers James Wheldon and J. Rosamond Johnson to commemorate Abraham Lincoln, the song became known as "the Black National Anthem" in the early 20th century. Robles said of the work: "It speaks to anyone who has experienced oppression or injustice and is especially relevant in today's social and political climate." She describes her arrangement as having a more contemporary use of harmony with influences from musical theater and film.
Tenor Shawn Kirchner, who was the Master Chorale's composer-in-residence from 2012-15, also has work featured. His setting of the Appalachian folk tune
Bright Morning Stars
includes a new verse he composed, "Where are our dear children?" in which he imagines departed fathers and mothers singing back to their children on earth, written in remembrance of his own mother's passing.
Choral luminary Alice Parker, who is still actively arranging at the age of 91, was the primary arranger for the Robert Shaw Chorale for two decades. Her arrangements of
Amazing Grace
and
Hark, I Hear the Harps Eternal
are featured.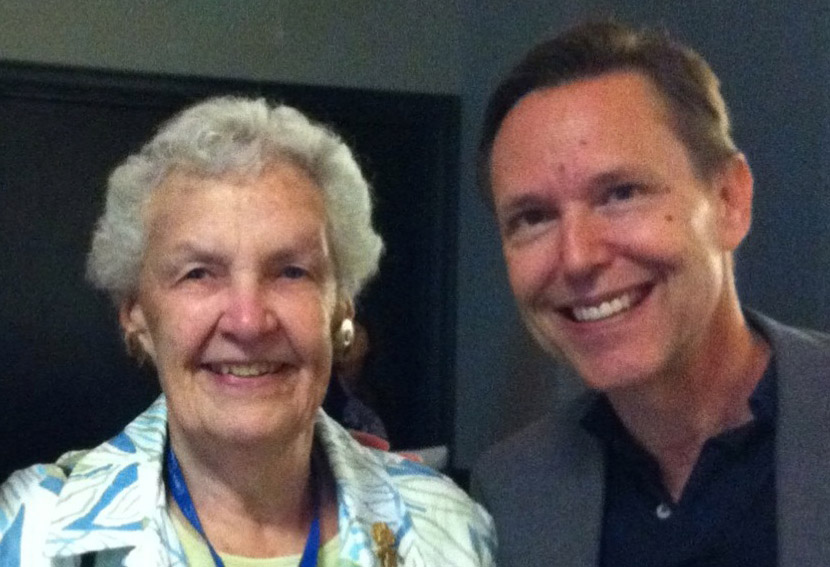 Alice Parker with Artistic Director Grant Gershon in 2015
Three other female contemporary arrangers/composers have works on the program. A leading figure in Korea's choral scene, Hyo-won Woo's signature fusion of Eastern and Western elements is in display in her piece
Cum Sancto Spiritu
which is the final movement from her 2002 setting of the
Gloria
. Alabama-based composer, performer, and educator Rosephanye Powell's a cappella anthem
The Word Was God
sets a text from John 1:1-3 and is described by Powell as "a musical word painting of the Creation." With
Stand in That River
, Los Angeles-based singer/composer Moira Smiley set out to write a new spiritual in the Americana tradition, emulating the Appalachian hymn genre. "I wanted to honor those folk hymns from an earlier period. Even though they were written as Christian hymns, they seem to speak across the ages no matter what your beliefs are. My piece is about having that same communal spirit."
Ralph Vaughan Williams' Mass in G minor, a setting of the Latin Mass for an eight-part double choir and soloists is performed alongside another 20th century European work, Maurice Duruflé's motet
Ubi caritas
that draws upon melodies found in Gregorian chant.
American choral composer Randall Thompson's
Alleluia
was composed in 1940 and reflects the somber context of the Second World War. It has since become one of the most popularly performed choral works of all time.
VIEW PERFORMANCE PAGE