Lagrime Returns to Disney Hall in 2018
The Los Angeles Master Chorale's groundbreaking and critically-acclaimed production of Orlando di Lasso's
Lagrime di San Pietro
(
Tears of St. Peter
) directed by Peter Sellars will return to Walt Disney Concert Hall for a special Gala performance on
Sunday, March 18, 2018 at 7 PM
. The performance will be conducted by Grant Gershon, the Kiki and David Gindler Artistic Director, and feature 21 Master Chorale singers who perform the 75-minute, dramatically-staged work from memory. The performance will be part of a gala evening honoring Los Angeles arts philanthropists Kiki and David Gindler for their leadership, and honoring Sellars for artistic achievement. David Gindler is currently Chairman of the Los Angeles Master Chorale Board of Directors, a position that he will step down from on June 30, 2018 after serving two three-year terms. In 2012, the Los Angeles Master Chorale announced a gift of $1 million from the Gindlers. The gift established the Master Chorale's Artistic Director's Circle, a group of dedicated donors who donate $50,000 or more to the organization to support core institutional programming to enable innovative projects such as
Lagrime di San Pietro (Lagrime)
.
WATCH VIDEOS FROM OUR 2016 PRODUCTION
---
VIEW MORE LAGRIME VIDEOS
---
Lagrime
is the Los Angeles Master Chorale's first collaboration with the internationally-renowned Sellars and his first staging of an a cappella choral work. A longtime colleague and friend of Gershon, the two discovered a shared passion for Renaissance music and were intrigued — and challenged — by the idea of staging
Lagrime
, a work that, although widely respected, remains relatively under-performed.
The Los Angeles Master Chorale's production of
Lagrime
was first staged in October 2016. The Renaissance-era work is a 21 madrigal-cycle depicting the seven stages of grief that St. Peter experienced after disavowing his knowledge of Jesus Christ on the day of his arrest and prior to his crucifixion. It is set to the poetry of 16th century Italian renaissance poet Luigi Tansillo. Sellars translates
Lagrime
through a contemporary lens, suggesting a powerful allegory that by taking responsibility and facing our past head-on, we can forge a more resolved and fulfilling future.
Reviewing the October performances, Simon Williams writing for Opera News said: "If evidence were needed that imaginative staging can provide us with access to difficult works of art, then it was offered in abundance by the Los Angeles Master Chorale in an extraordinary performance of Orlando di Lasso's a cappella masterpiece,
Lagrime di San Pietro
." LA Times music critic Mark Swed said: "
Lagrime
is a major accomplishment for the Master Chorale, which sang and acted brilliantly. It is also a major accomplishment for music history."
The production, which features lighting by James F. Ingalls and costumes by Danielle Domingue Sumi, has attracted interest from festivals and venues around the world. The Los Angeles Master Chorale, Gershon, and Sellars will subsequently tour the production nationally and internationally in the 2018/19 and 2019/20 seasons. Tour dates and venues will be announced with the Master Chorale's 2018/19 season in the new year. The Los Angeles Master Chorale's touring production of
Lagrime
is represented by
David Lieberman Artists' Representatives
.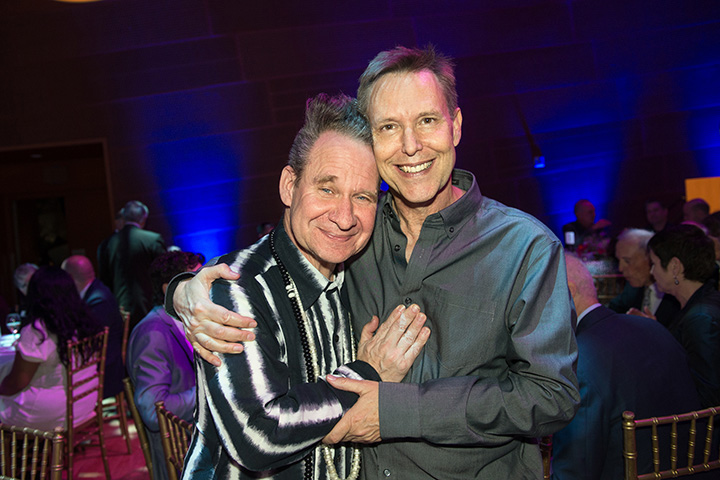 Peter Sellars and Grant Gershon at Opening Night 2016, photo by Jamie Pham
"
Lagrime
was the most ambitious, most challenging, most grueling, and most rewarding project the Los Angeles Master Chorale has ever undertaken during my tenure," said Gershon. "It was nothing short of an honor to work with the dazzlingly talented Peter Sellars on this project and it was an experience that I know our singers and our audiences will never forget. It is thrilling to bring
Lagrime
back to Disney Hall and for this incredibly rich and rewarding production to become a calling card for the Master Chorale when we take it on tour.
"I can think of no better way to celebrate the enormous contributions of Kiki and David Gindler to the Master Chorale than with an encore performance of a work they have championed and nourished. It is also a wonderful opportunity to pay tribute to Peter and the joy, inspiration, passion, and insight he brings to stages everywhere he goes."
GALA 2018 TICKETS & INFORMATION
Note: Single tickets for this performance will be available at a later date, pending availability.